Hi fellow quilters!
Join me tomorrow, February 13, on American Patchwork and Quilting Radio with Pat Sloan.  Tune in at 3:00 p.m. Central Time (4:00 p.m. EST).  If you didn't catch it live, that's OK, it's a podcast so you can listen to it anytime by getting the American Patchwork & Quilting Radio show podcast or clicking on this link in Pat's blog to listen to the show.  I'm the 3rd guest so my 12 minute segment starts at 28:00 minutes into the program.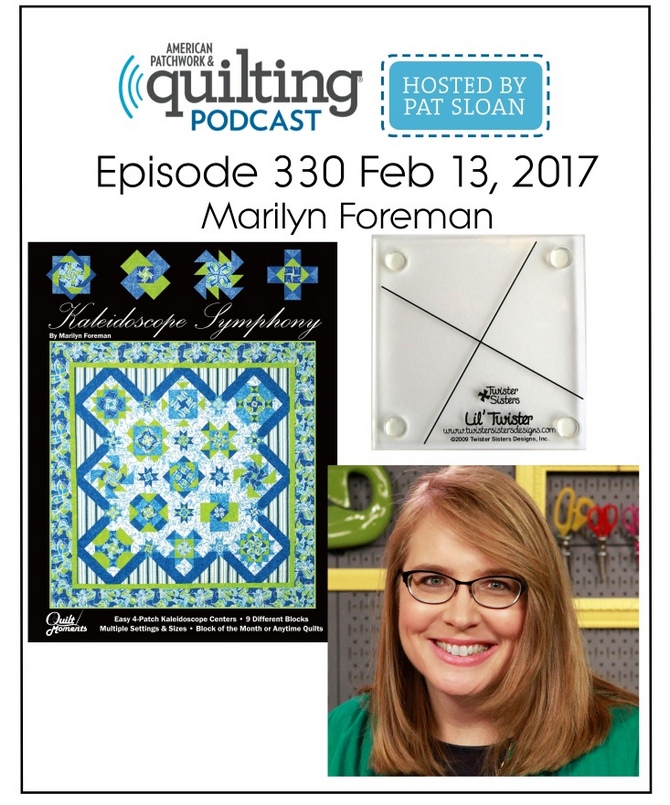 I'm so excited to be a guest on Pat's show!  To mark the occasion and to celebrate Valentine's Day, I'm giving away a full/queen size kit of the Kaleidoscope Symphony quilt shown below.  This red & pink version seems an appropriate colorway for the season of love…check out this previous blog post to see a fun quilt walk with many, many more examples of Kaleidoscope Symphony quilts made in different fabrics.
Continue reading for more info and learn how to enter for a chance to win the quilt kit!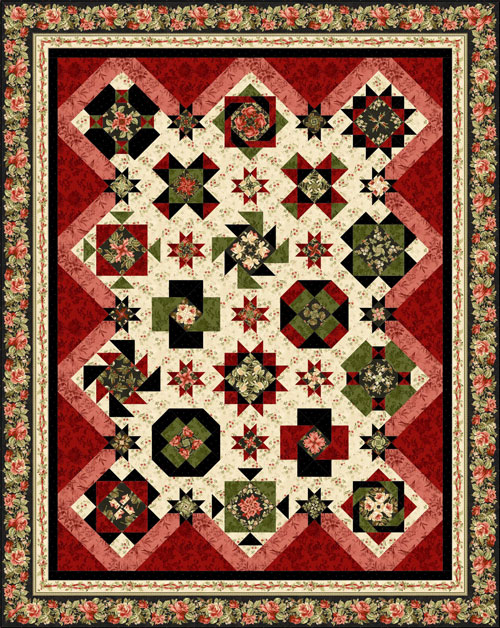 During the radio show / podcast, Pat & I will chat about how I started Quilt Moments and also talk about the company, Twister Sisters, which is the new home of the popular Twister tools.  Twister Sisters is co-owned by me and my friend Lisa Amundson of Around the Bobbin.
The Twister Planner is the first pattern that we created as Twister Sisters which is a handy guide that walks you through 15 different quilt sizes runner to queen so you can easily create any size scrappy twister quilt that you wish with the Lil' Twister tool (for 5″ sqs), Midi Twister (for 6-1/2″ sqs) or the Twister (for 10″ sqs).  You can see the tools and many other twister patterns by Twister Sisters, Quilt Moments, and Around the Bobbin at Twister Sisters.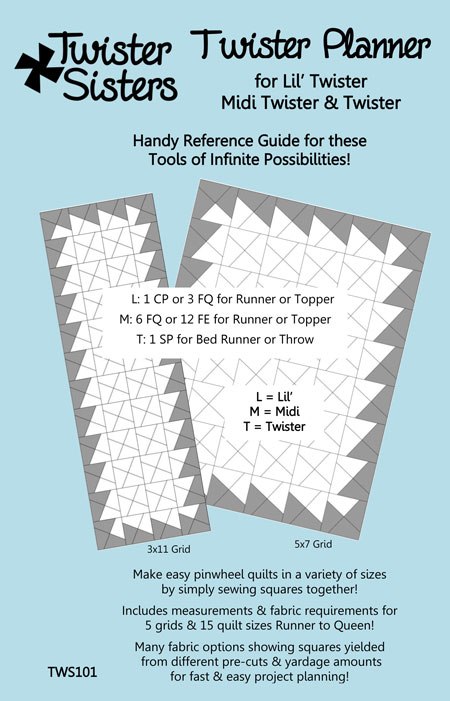 In October we introduced a new smaller size twister tool called the Mini Twister tool  which can be used with 2-1/2″ strips and 4-1/2″ sqs.  The fun feature of the Mini Twister size is that you can make 4-patches using four different 2-1/2″ strips and then twist so each pinwheel has four colors for the pinwheel points!  The Mini Twister tool includes the pattern for this fun table runner.  If you are careful with your cutting, you can make a potholder or coasters with the leftover pieces.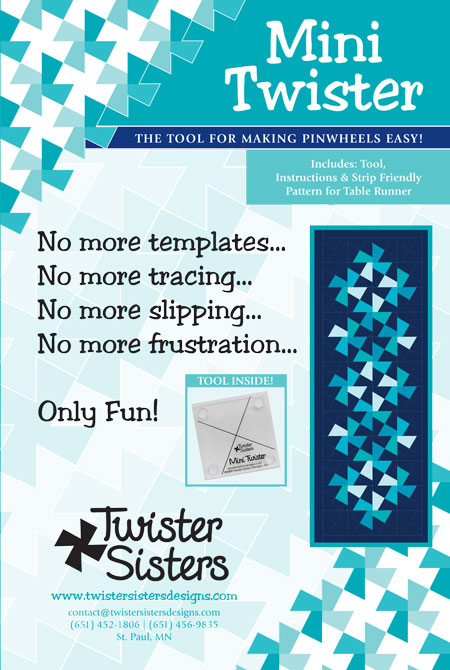 Here is the new Mini Twister Rings pattern by Quilt Moments.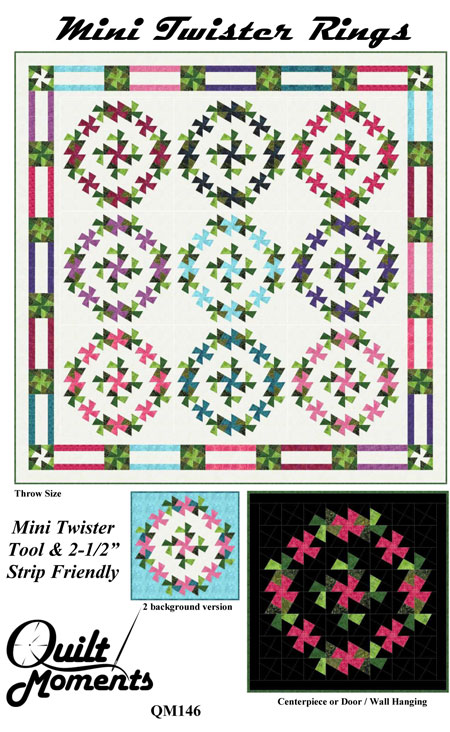 OK, now for the big Kaleidoscope Quilt Kit giveaway!  For a chance to win the Kaleidoscope Symphony quilt kit shown at the top of the post, listen to the February 13 radio show, and leave a comment here on my blog giving some feedback about the show: something you learned or liked, or any comment about the program.  Comments will be accepted starting at 4:00 p.m. CST February 13 after the show through Wednesday, February 15 at midnight CST.  The winner is Sharon Butera!  Congratulations, the queen size quilt kit and Kaleidoscope Symphony book will soon be on the way to you.  Thank you to everyone for your nice comments.  I enjoyed being on Pat's radio show.  If you didn't get a chance to enter the giveaway, there will be more in the future.  Please follow the blog, so you'll be notified when I do future posts, and you won't miss any of our news and drawings!
And for everyone, I'm offering a discount on my Craftsy class called Quilted Kaleidoscopes which includes patterns for several runners and quilts, and covers the twister tool techniques and four-patch kaleidoscope techniques, plus lots of info on fabric selection and borders.  You can use this link to get 50% off the regular retail price of the class!  The coupon will appear once you add the class to your shopping cart and is good through May 14, 2017.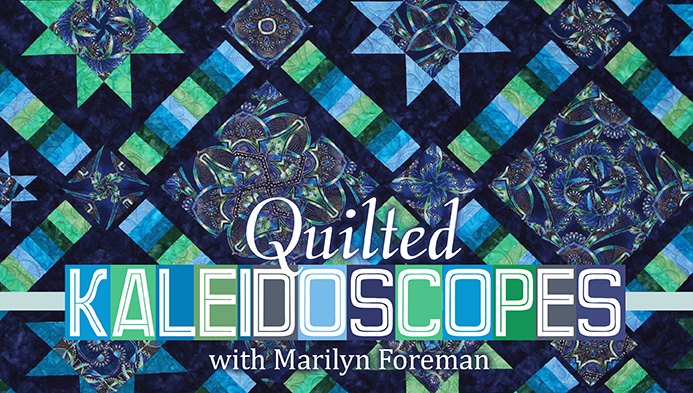 Until next time, please remember to enjoy all your quilt moments:)!
Marilyn