Hi fellow quilters,
I haven't posted in a very long time and it's quilt market time again, so I have lots to share!
The latest news is that my friend, Lisa Amundson, of Around the Bobbin, and I purchased the popular twister tools and copyright (Lil' Twister, Midi Twister, & Twister) from Marsha Bergren of CS Designs on September 30th. The new company for the tools is Twister Sisters. Lisa and I don't have "real" sisters but definitely are sisters in our quilting & fabric addictions, so it seemed like the perfect name for our new venture. You can read more about it on the website here.
Quilt Moments won't be at quilt market, however, I have a new pattern, and yes, it happens to be a twister friendly pattern:). I stumbled onto it while looking through free quilt patterns and thought it would look amazing. Twister Blooms, QM144, includes 4 sizes miniature to queen! You can see more info on this pattern and all 8 of our twister friendly patterns here.
The cover quilt is made with Java Batiks by Freshwater Designs for Maywood Studio / E.E. Schenck. I simply cut 5″ squares, sewed them into a grid following the layout diagram, cut out square pinwheel units with the Lil' Twister tool and sewed the squares back together to complete the quilt. This quilt is throw size. If I used the Midi Twister, it would be a queen size quilt. If you are at quilt market, this quilt can be found in the EE Schenck / Maywood Studio booth area.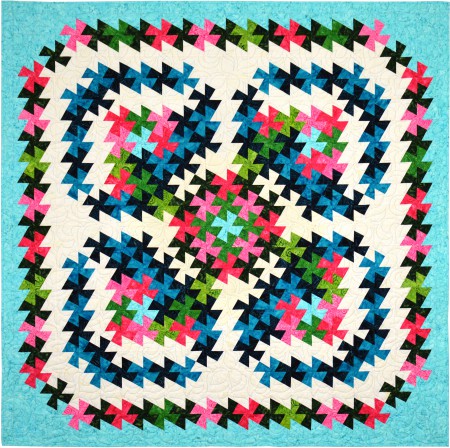 Now, here are images of quilts using some of our existing patterns and newest fabrics for Houston quilt market:
This is one of my 4-patch kaleidoscope designs, Among the Stars (QM106), using Timeless Treasures' Suffolk collection designed by Chong-a Hwang coming to shops later this year.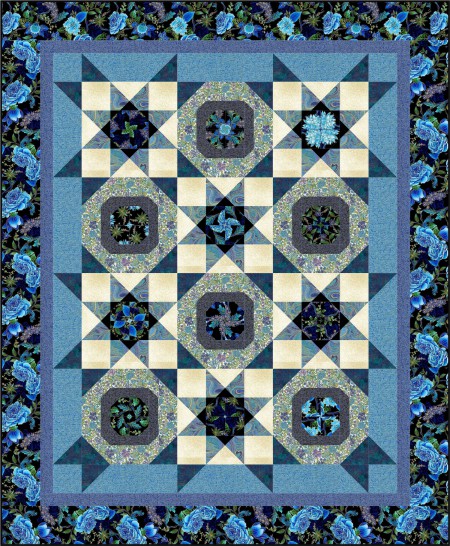 Here is Spinning Wheel Runners (QM140) using Robert Kaufman's Grand Majolica collection coming to shops in February. There are 3 colorways which you can see here.
Here's another design, Belle Kaleidoscope (QM125) using the same Grand Majolica collection. The purple colorway of this quilt and the Spinning Wheel runner above will both be in Robert Kaufman's booth at quilt market. See all 3 colorways below and here.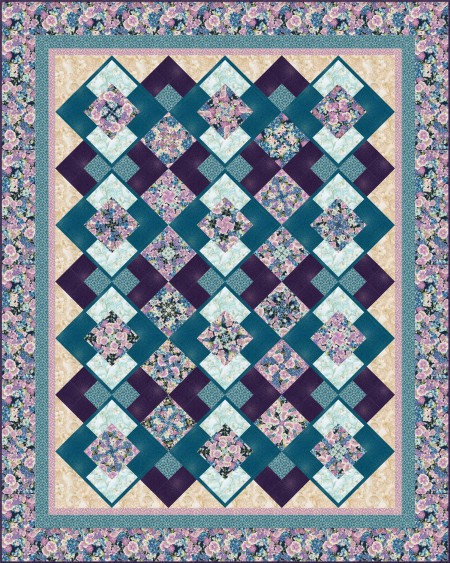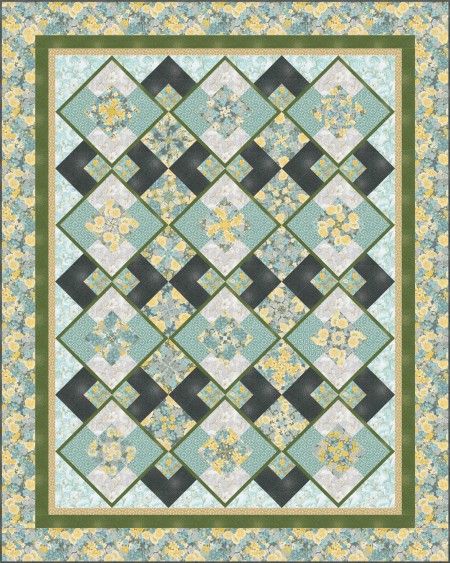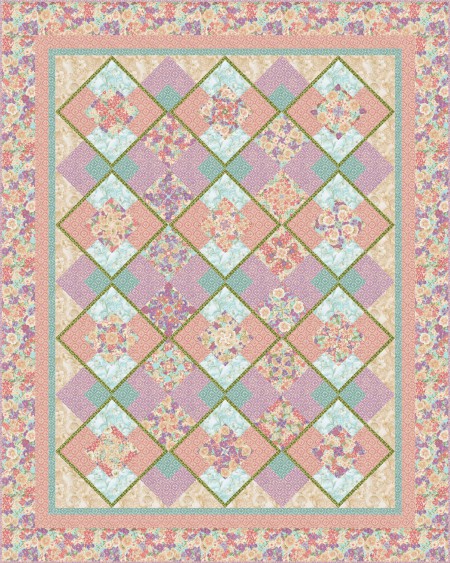 Here's Belle Kaleidoscope QM125 in Timeless Treasures' Essex collection which just hit quilt shops.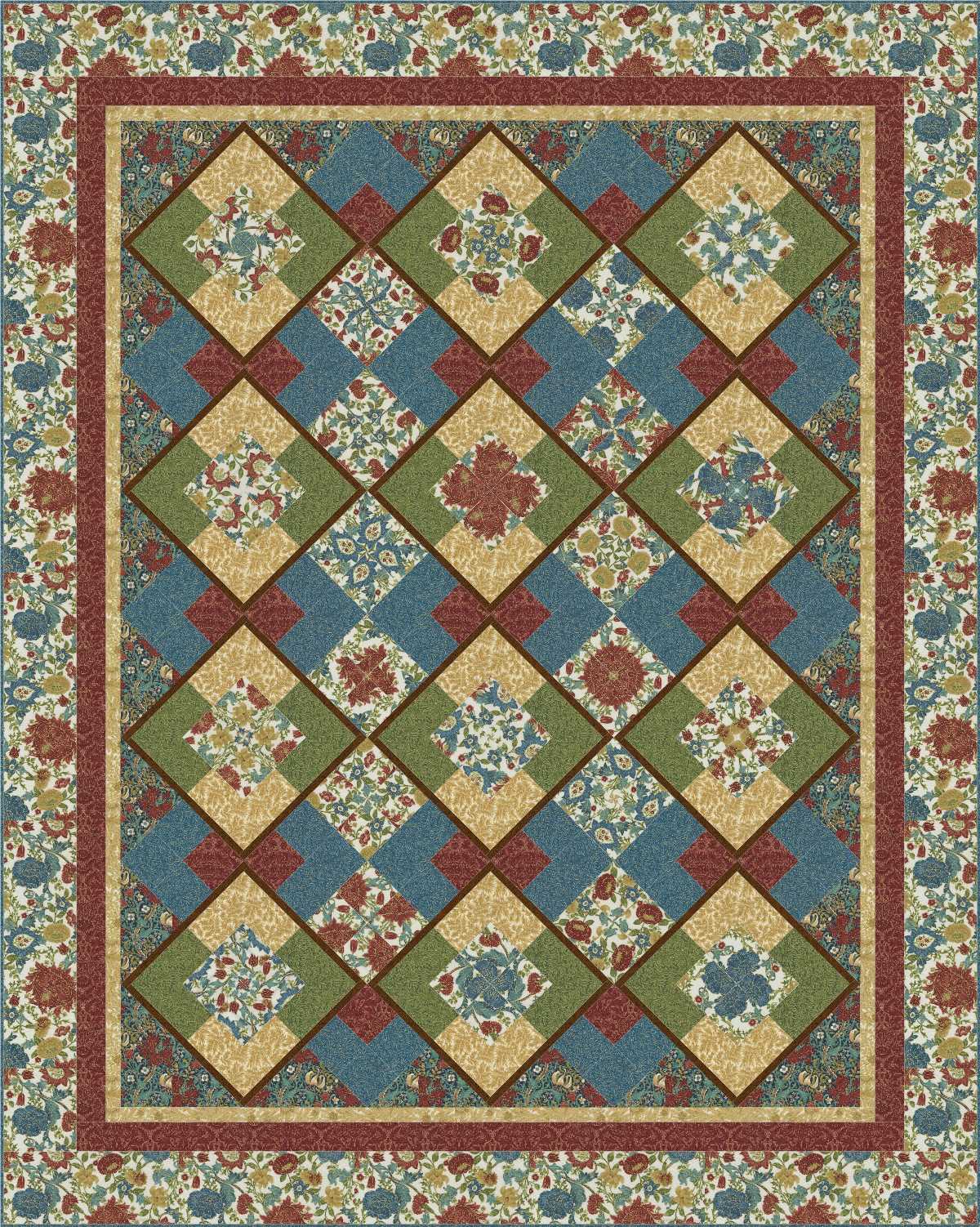 Belle Kaleidoscope is also one of the patterns I teach in my online Craftsy class "Quilted Kaleidoscopes" which covers every aspect of my 4-patch kaleidoscope quilts from picking fabrics, to making many projects, and attaching the borders. Click here to see a class summary and get 50% off the class!
Here are images of the other patterns that came out earlier this year, and you can see more info about the patterns: size options, fabrics used, etc. at What's New on our website.
Chance Encounters (QM143) is strip or FQ friendly. You can cut 1-1/2″ or 2-1/2″ strips. You can randomly pair up light and dark strips, so chance encounters seemed like a perfect name for the pattern!
The quilt shown on the pattern features batiks by Anthology Fabrics. I cut 1-1/2″ strips for this one, so it is a small throw size. If I had used 2-1/2″ strips, it would be twin size.
This twin size version was made with fat quarters of Jinny Beyer's Malam batiks by RJR. I cut them into 2-1/2″ strips.
Here's a version using Robert Kaufman's Artisan Batiks Seasons collection. It is queen size with the wide border, or twin without the border.
Twister Knot QM142 is a twister tool friendly pattern with 6 sizes mini to king! Since it combines easy pinwheel strips and large sections of background fabric, this quilt goes together very quickly and can easily be made in one or two weekends for any of the sizes!
Here are pictures of the many size options from miniature to king size shown in my Minneapolis quilt market booth back in May.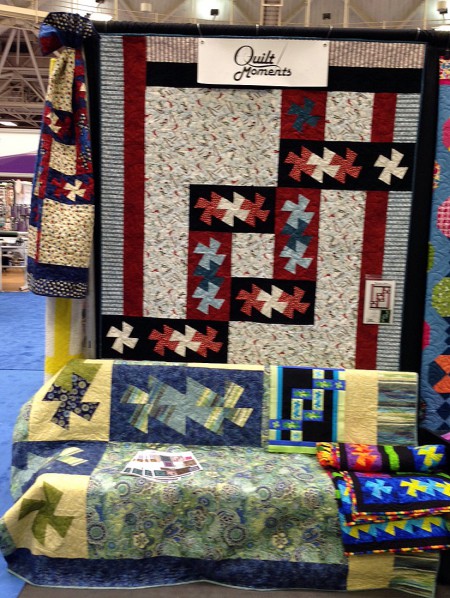 Zooming in on the quilts hanging on the wall, the version made in Maywood Studio's Frolic in the Snow flannel collection is twin size using the Midi Twister tool. The smaller version hanging (scrunched up:)) to the left is a patriotic version using Northcott Stonehenge and the Lil' Twister tool for a throw size.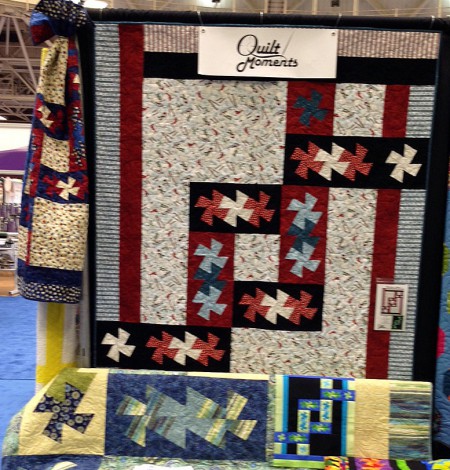 Zooming in again on the quilts on the "couch", you can see the miniature version made with Moda Bella solids laying on top of the folded up king size quilt made with huge pinwheels. The mini was made using the Itty Bitty Primitive Pinwheel & the king size was made with the Twister tool.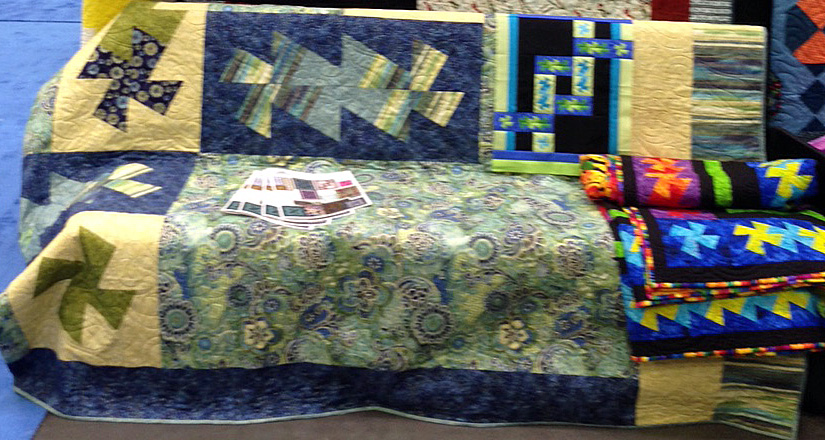 The last new pattern of this year was the Keyboard Kaleidoscope (QM102BOM) Block of the Month version of my popular Keyboard Kaleidoscope design. This larger pattern shows four full color quilt examples, and divides the design into 6 sections, making it perfect for Block of the Month programs. I was working on this design during my last blog post (yes, sorry, it was way back at the beginning of May before spring market!)
Pattern cover: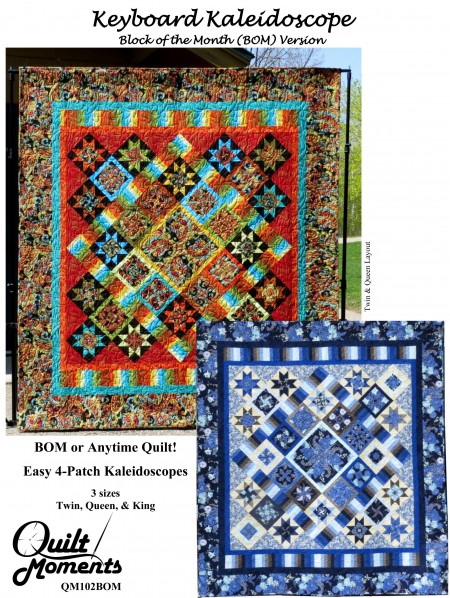 Pattern back: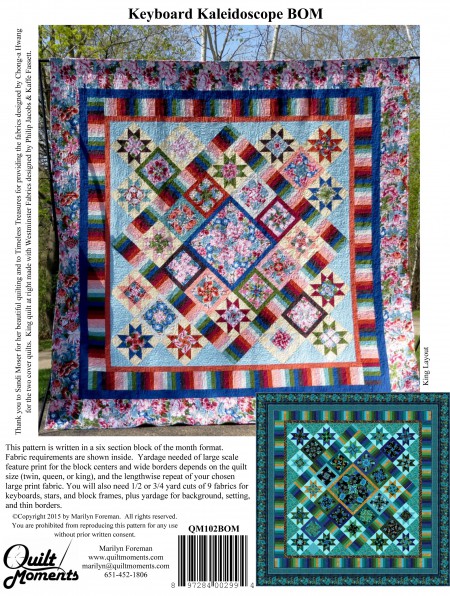 So, that's the quick recap of Quilt Moments for the last six months or 25,000+ moments if one quilt moment equals one minute:)
Until next time, enjoy all your quilt moments!
Marilyn