Welcome to Quilt Moments!
Quilt Designs and Patterns by Marilyn Foreman
A variety of pieced patterns for quilters of all levels with lots of different fun techniques:  Easy Four-Patch Kaleidoscopes, Scrappy/Pre-cut friendly, Twister friendly, BOMs and more! Each pattern includes multiple sizes and we have designs for every size from runner to king.
A few of our newest patterns...
Our designs in current & upcoming fabric lines...
Click on quilt name or image to see the pattern.  
Marilyn's Quilted Kaleidoscopes online class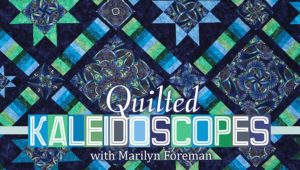 Click on the picture to go to Craftsy and watch the trailer. Learn the techniques used in all Marilyn's four-patch kaleidoscope and twister designs. Also includes a lesson on different border options with mitered border instructions.
Save
Save
Save