Hi fellow quilters!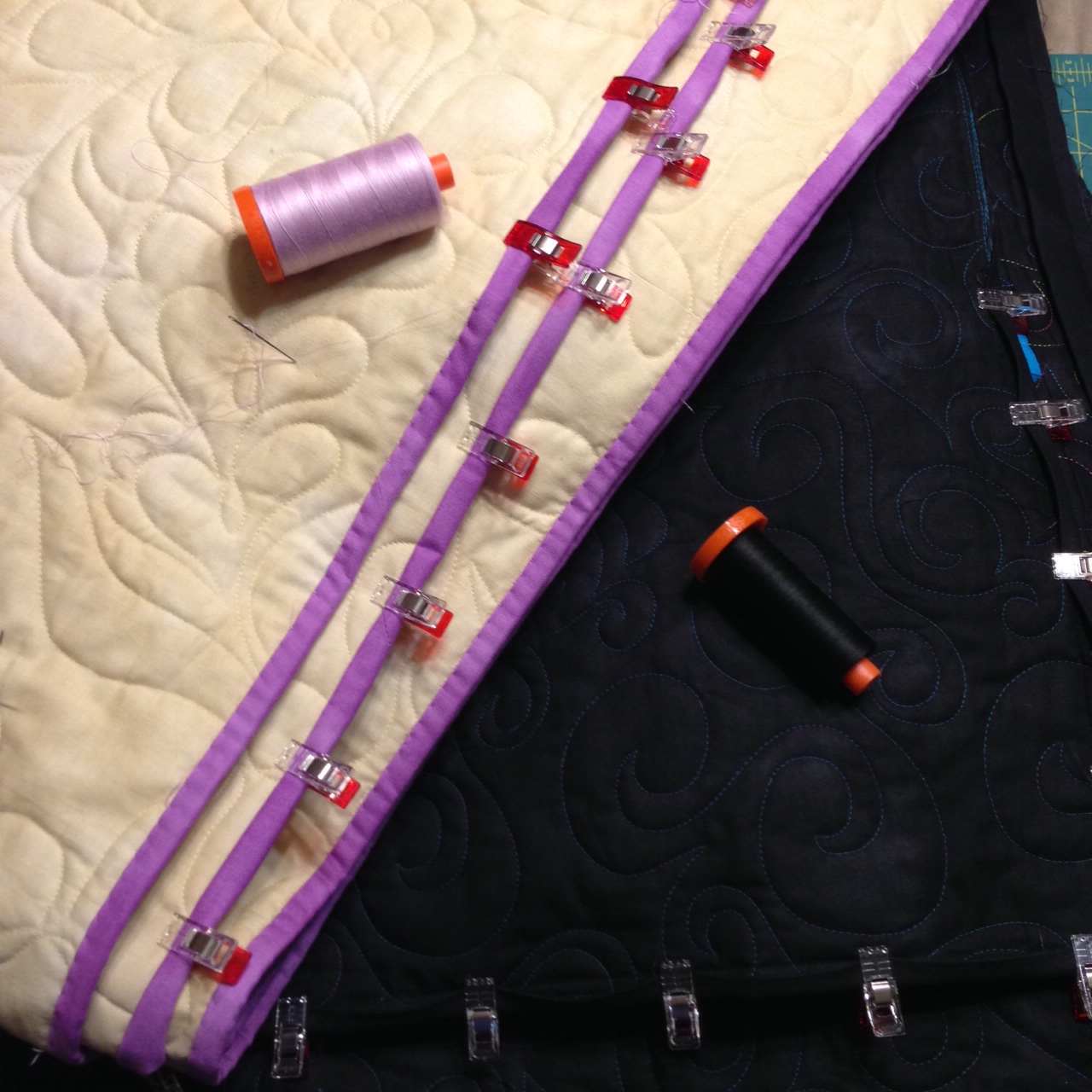 I've been very busy the past three months working on some new quilt designs and hopefully I'll be able to share images of the quilt fronts next month.
This week I was binding two huge king size quilts.  OK, maybe not quite MILES of binding, but lots of INCHES of binding, almost 900!
I don't know about you, but my least favorite part of the quilt-making process is doing the machine binding part before doing the relaxing hand sewing part shown in my photo above.  I think I run out of steam after piecing the quilt, so the idea of preparing the binding strips and sewing it around the big heavy quilt can be daunting.  However, once I've machine stitched the binding onto the front side, I actually love the last part of the process when I can curl up on the couch underneath the new quilt and hand stitch the binding onto the back side of the quilt.
Why do I like the hand sewing part so much?  I get to veg out and really relax.  I can chit chat with family & friends, or watch a favorite TV show (Academy Awards, yay!) or a Netflix show.  And since I enjoy watching Craftsy videos, it's also a great time to learn something new or refresh my knowledge on different techniques.  One of the first classes I watched in 2014 before filming my Quilted Kaleidoscopes Craftsy class was Mimi Dietrich's Finishing School: Edges & Bindings.  Mimi is a great teacher and makes every step exciting.  Soooo…..as I was working on binding not just one king size quilt, but two!!!, I figured it was a perfect time to watch the class again!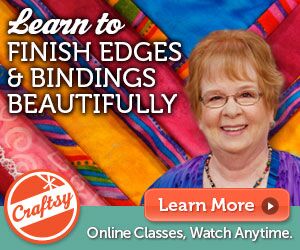 Mimi made me laugh through the process and I enjoyed seeing her many examples of different ways to bind quilts.  She even has fun tips on hanging sleeves and quilt labels.
To celebrate March National Craft month, Craftsy is going to make a $1,000 donation to a craft-focused charity of one lucky student's choice including everyone who signs up by end of day March 13th.  If you've been thinking of trying an online Craftsy class, now is the perfect time to try one.  Craftsy will give you a 100% discount if you don't enjoy the class, so you have nothing to lose.  Click on the image of Mimi's class above or here for my affiliate link to see more about her class and get 25% off the class.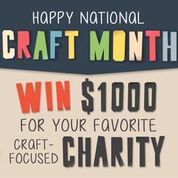 And, if you haven't checked out my class yet, March is a lucky month.  Not only is there a chance that you'll win $1,000 for a favorite charity, but……..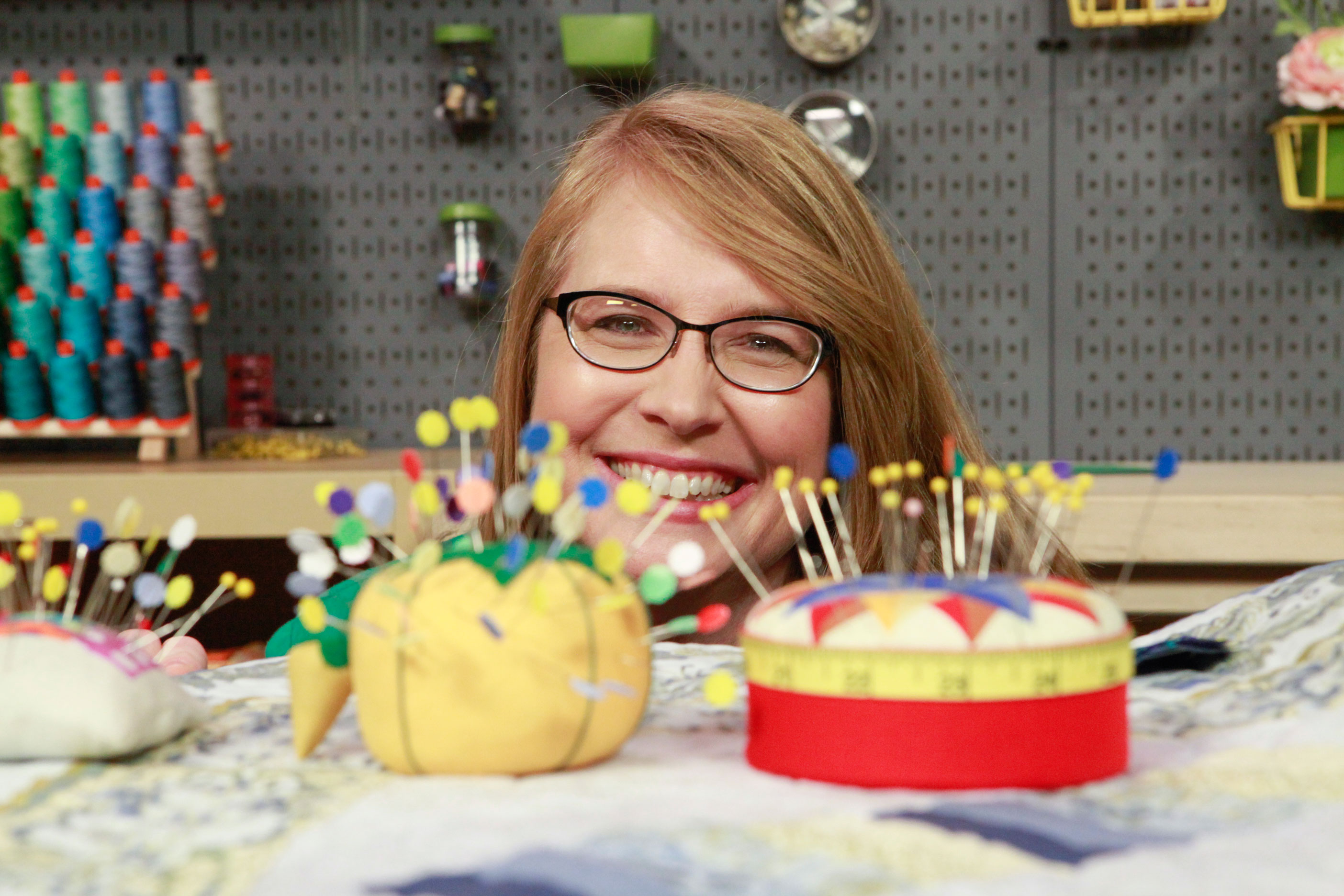 I have a BIG birthday this month, so use this link to get 50% off my Quilted Kaleidoscopes class!
The picture above reminds me of how much fun I had filming the class.  See the pincushion in the middle?  Well, when they were filming my class, the producer told me that if I goofed up at any point, I should try to finish the sentence or section I was talking about since they can fix lots of things during the editing process.  So there I was…piecing a block on the sewing machine, taking pins out along the way and putting them into that pretty yellow pincushion, when all of a sudden the pincushion unexpectedly fell off the table!  Being the professional that I am (hee hee) I took it in stride and just continued sewing as if the pincushion was still there.  So, imagine my surprise when the producer yelled "Cut!"  OK, I guess not quite everything can be fixed with editing:)
So, what are you doing this month for fun?  Hope you get to enjoy some quilting/crafting time and maybe go on a retreat with your friends.  Another great idea is to just take some time for yourself and visit one of your local quilt shops or go on a roadtrip to visit a new one!  Nothing beats touching beautiful fabric and dreaming of your next project!
Until next time, enjoy all your quilt moments:)
Marilyn