Hi fellow quilters,
I'm participating in the Giveaway Day organized by Sew Mama Sew.

My giveaway includes a bundle of Moda batiks, Quilt Moments' Twister Sparkler pattern, and the Lil' Twister tool.  Just add some background fabric and you'll be able to make the fun holiday Twister Sparkler wallhanging shown in the photo, or use the fat quarters for whatever project you wish!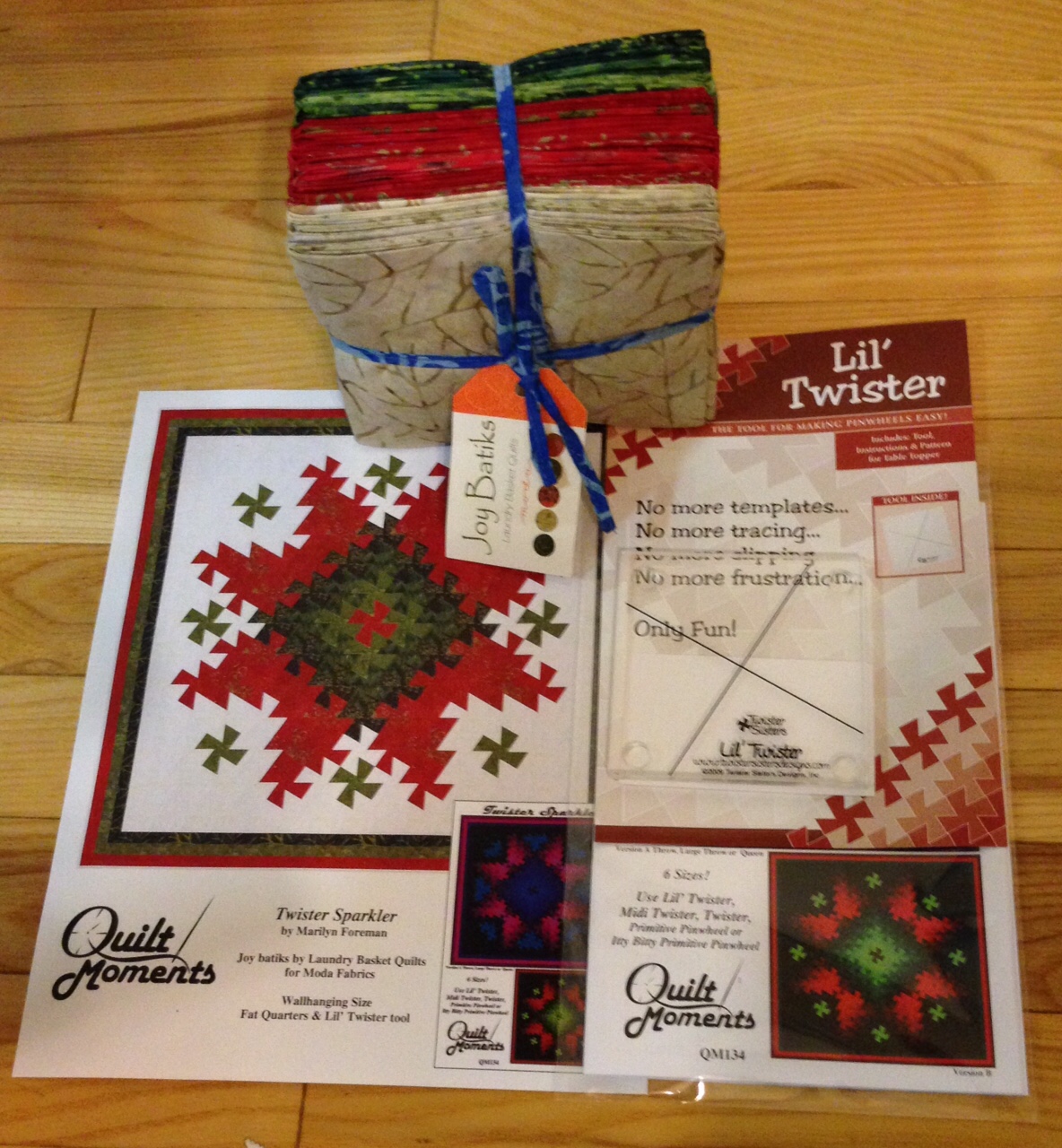 The fabrics in the giveaway include a 21 fat quarter pack of the entire Moda Joy batiks collection by Laundry Basket Quilts.  That's the equivalent of 5-1/4 yards of fabric!  Use some of the red & green fat quarters from the bundle and add some yardage of cream fabric to make the fun holiday Twister Sparkler wallhanging shown in the photo, or use the fat quarters for whatever project you wish!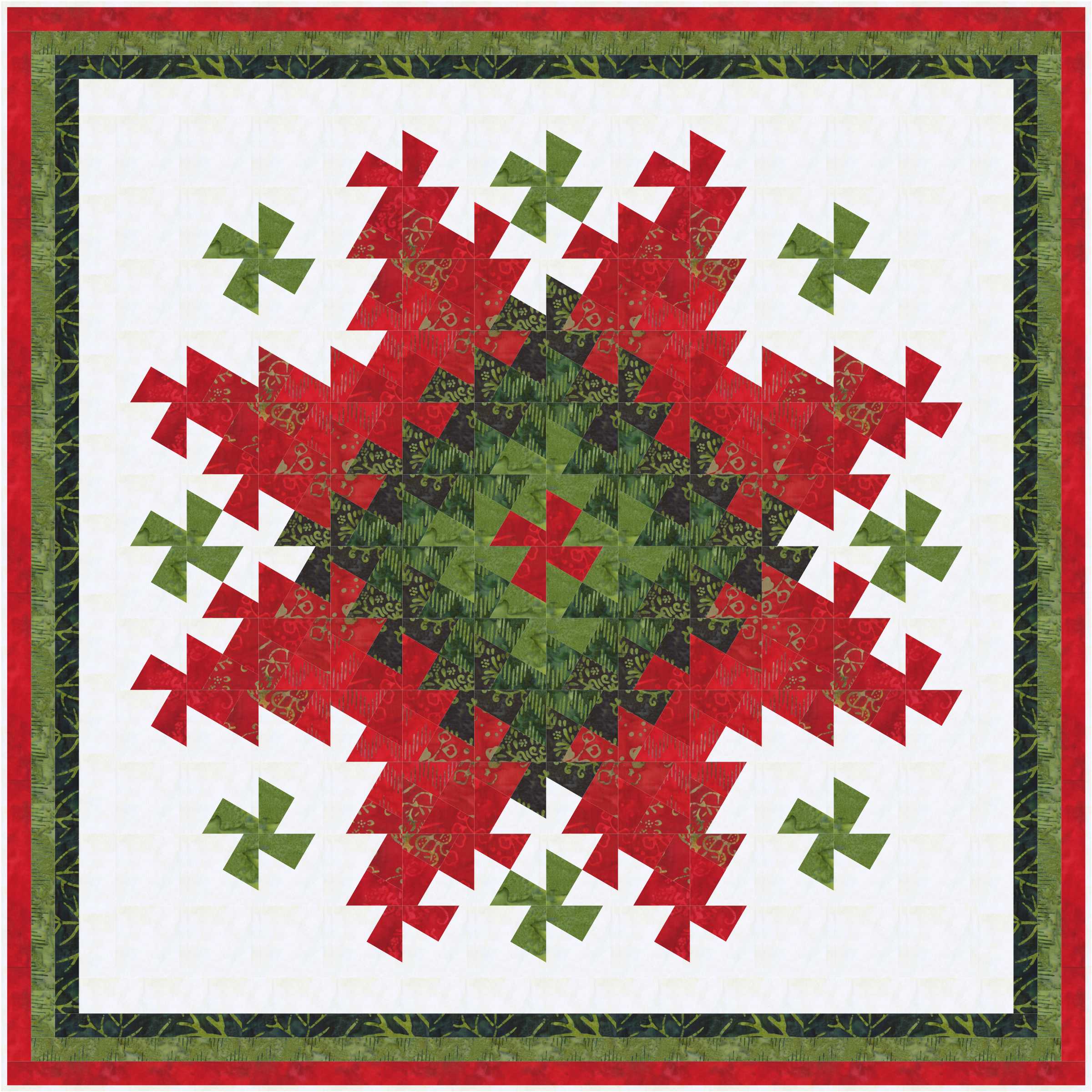 The Twister Sparkler pattern includes 6 sizes mini to king.
The Lil' Twister tool is used with 5″ squares to make pinwheels from a simple grid of squares.  A fat quarter can yield (12) 5″ squares, so you can do lots of twisting with a fat quarter bundle!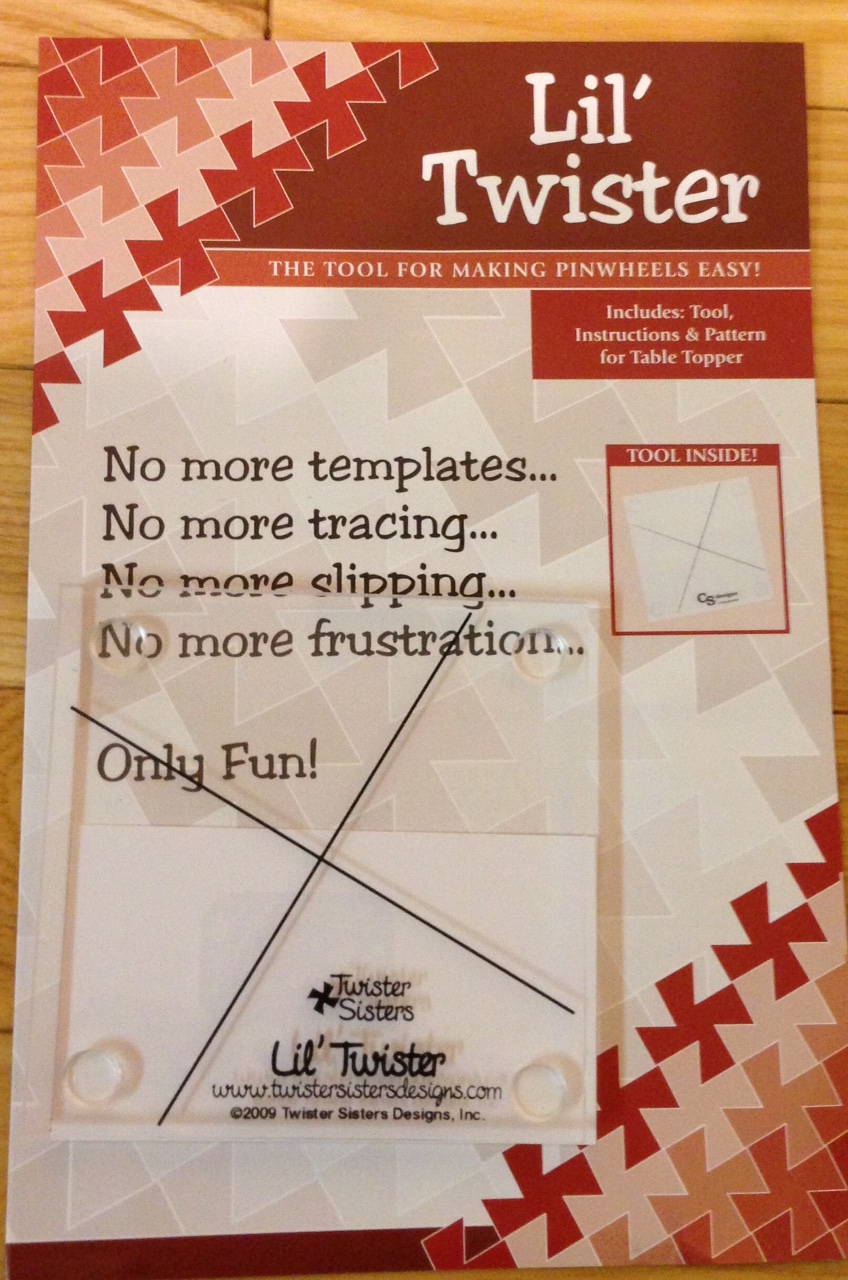 The twister tools are now owned by a new company called Twister Sisters.
Quilt Moments has many  Twister friendly patterns  including Triple Twister (QM127), Twister Tapestry (QM130), Twister Illusions (QM131), Twister Sparkler (QM134), Twister Shimmer (QM135), Panel Twist (QM139 & QM139N), Twister Knot (QM142), and Twister Blooms (QM144).  We also have many other patterns including easy 4-patch kaleidoscope patterns, pre-cut friendly, scrappy patterns and BOM patterns/book.  You can see all of our designs here, and newest designs here.
To enter the giveaway, please leave a comment before midnight CST this Sunday, December 13th.  You can leave any comment you wish, or share if you have ever used any of the Twister tools (Lil' Twister, Midi Twister, or Twister).  The giveaway is open to everyone (includes international).
For an additional chance to win, not required, please sign up to follow my blog, like Quilt Moments on Facebook, follow us on Instagram and/or signup to receive email updates.  You can leave another comment letting us know how you follow Quilt Moments.  I would also appreciate it if you could share this giveaway info on your social media.
Check out another great giveaway including twister tools, fabric, and patterns on Twister Sisters instagram at twistersistersdesigns.
The winner is Betsy Lewis!  Congratulations, your bundle of goodies including the fabric, Lil' Twister, and pattern will soon be on its way to you! Thank you so much to everyone for visiting my blog, participating in the SewMamaSew giveaway week and for all your comments. 
As an extra treat, all Quilt Moments books and patterns will be 25% off through December!  Just mention the discount when you place an order and we'll adjust the invoice.  Thank you so much for your business!
Have fun blog hopping and thank you to SewMamaSew for organizing this great event!
Until next time, enjoy all your quilt moments:)
Happy Holidays!
Marilyn