Hi fellow quilters,
Welcome!  Thanks for stopping by and visiting me during this road trip through the latest issue of Quiltmaker's 100 Blocks from The Quilting Company (Quiltmaker).  I live in a suburb of St. Paul, Minnesota with my hubby and 3 kids.  Aside from being the Land of 10,000+ lakes, Minnesota is full of lots of wonderful quilt shops and guilds so it's a great place to visit and I'm very lucky to live here.  We also tend to have lots of snow, so it was no surprise to wake up to a small dusting of snow this morning.
I'm so pleased to be part of this Quiltmaker's 100 Blocks Volume 16 issue: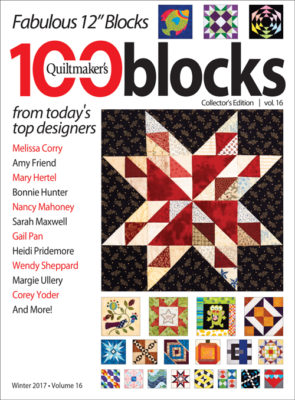 My block is shown on the bottom row of the cover (yippee!) and is called Flying 'Round
(block #1565 on page 41 of the magazine).  The name was easy given all the flying geese swirling around:)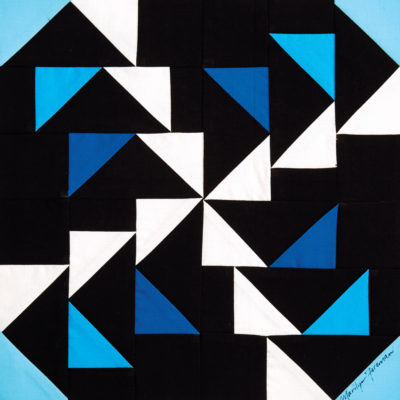 I used solids for my block:  3 shades of blue with white accent on a black background.
Usually when I make flying geese in my patterns, I do the no waste method where you use one large square of background (base triangle) fabric and four small squares for the points.  Quiltmaker calls this the Fast Flying Geese method and it is shown in the technique section at the back of the magazine.
However, when making flying geese units that have different colored points like the blue and white in my block, it is easier to use the Stitch & Flip method which is also described in the Quiltmaker magazine.
Here's a quick overview.
To make the flying geese unit at the left, you need one black rectangle, one blue square, and one white square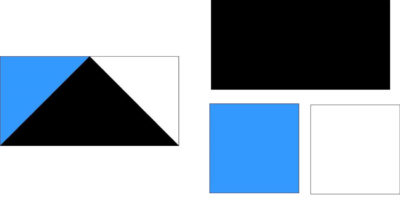 Draw diagonal lines on the back of the squares and then position the blue square right side together on the left side of the rectangle with the line oriented as shown.
Sew on the line and press the triangle towards the corner making sure that the fabrics align on top of each other.  Trim the seam allowance of the bottom two layers to 1/4″.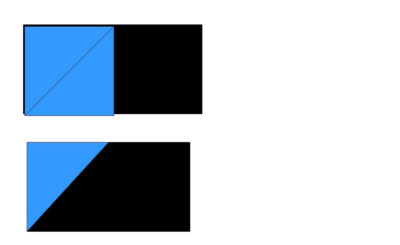 To complete the unit, next you will sew the white square onto the right side of the black rectangle.  Again, press out and trim seam allowance.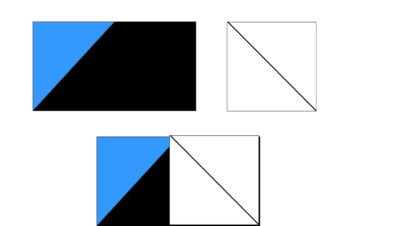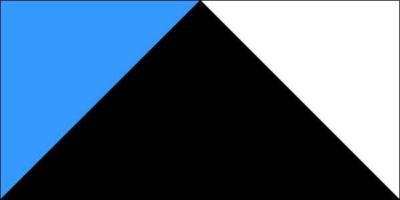 I had lots of fun creating the block and spent lots of time playing with different color combinations.
The block is very versatile.  Changing the background color or colors of the flying geese will yield very different looks.
Here's the block in greens.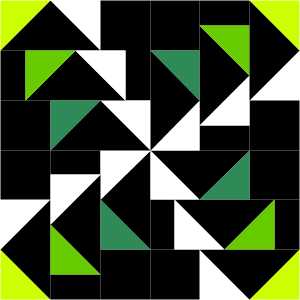 Look how different it looks when I replaced the small white triangles with the shades of green and change the flying geese base triangles from black to white.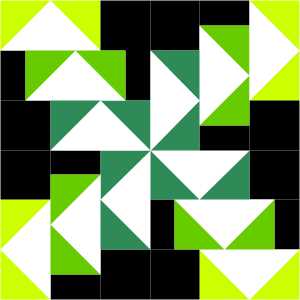 And how about adding more colors?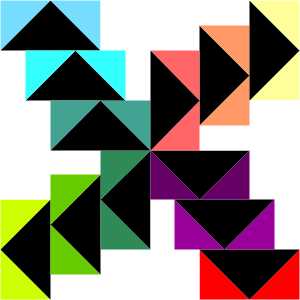 Besides playing with different block color combinations, I also had a blast playing with different quilt layouts for my block using EQ7.
Here's a quilt in a 3 x 3 block setting using the original blues block.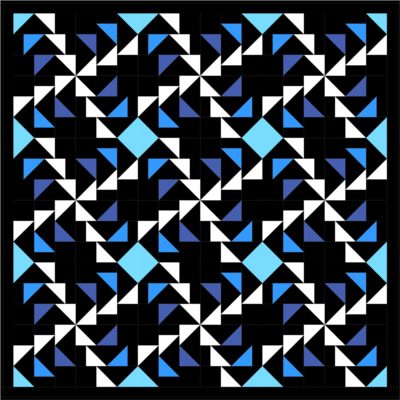 To break up the block intersections so they didn't create solid light blue squares on point, I tried varying the shades of blue in each block so that every other one shaded from light blue in center to dark blue out, opposite from the original block shading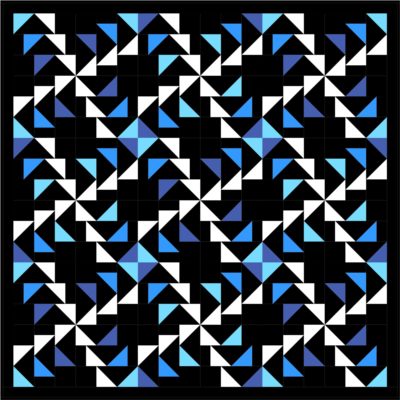 What if we add thin black sashing?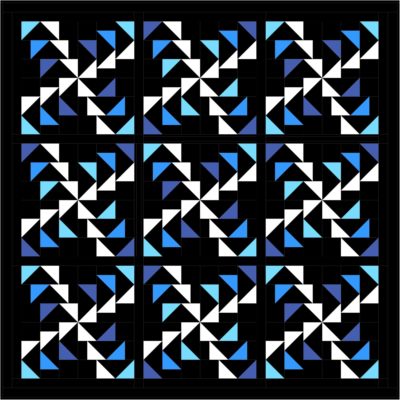 How about seeing what it looks like with a gray background instead of black?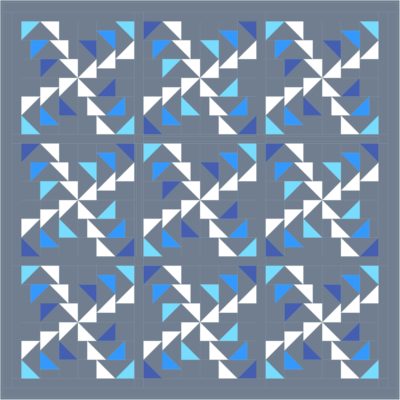 Or prefer to make every other block in shades of green rather than blue?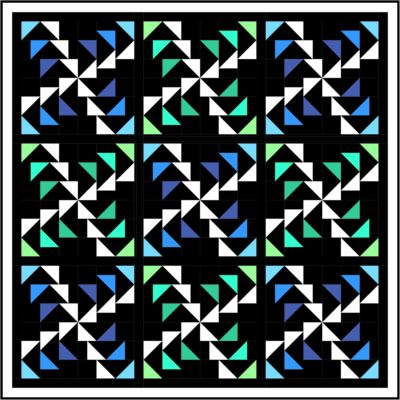 And what about using the block version above which was all shades of green with white base triangles and alternating the green shading placement?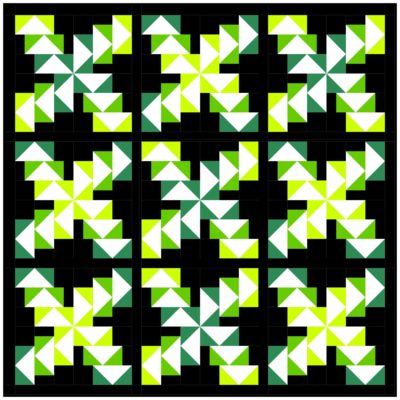 The possibilities truly are endless so have fun playing with your favorite colors!  I'm sure you can tell by now that blues and greens are my favorite:)
Now, I have 2 giveaways:
The first is a copy of this issue of the magazine, Volume 16, sent to you directly from Quiltmaker.
The second giveaway is your choice of any 3 of my Quilt Moments patterns.  Browse through the patterns on my website  and also check out my last blog post that shows all the newest designs that I showed in my booth at the Houston quilt market last month.
How to enter?  Simply leave a comment on this post.  Any comment will do…the color combination you think you would like to use when you sew a Flying 'Round block, the patterns on my site that you hope to win, the project that you're working on at the moment, or your location and the weather in your neck of the woods…whatever you feel like sharing!   I will select 2 winners at random this Sunday, November 19th at midnight CST.  (Note: I extended the deadline since the Quilty Pleasures blog for Quiltmaker was hard to find for a bit with the transition this week to their new site called The Quilt Company.  Their blog entries are found under "Articles" here.
Please follow me on Facebook and/or Instagram.  You can also subscribe to my blog to get notified of future posts, and sign up for my monthly (well, more like every few months:)) e-newsletter.
Good luck and visit Quiltmaker's blog to continue the road trip and visit all the other blogs today and this entire week.  Quiltmaker is also giving away daily prizes and 5 grand prizes for entries submitted by midnight Nov 19 so look at their blog entries for more chances to win!
Until next time, please remember to enjoy all your quilt moments:)!
Marilyn