Hi fellow quilters!
The Splendid Sampler 2 starts today…woohoo!  I'm so thrilled to be invited to be one of the 80 block designers and I'm looking forward to sewing along with Pat Sloan, Jane Davidson, and tons of quilters around the world.  Seeing the variety of blocks and fabric choices by everyone will be a blast.
Get all the details and download the free instructions for Block 1 on the Splendid Sampler blog now.  Every Thursday for 20 weeks, instructions for another block will be posted to download free and we can all sew along and learn about each designer.  Then the book will come out in December and we'll work on all the other blocks!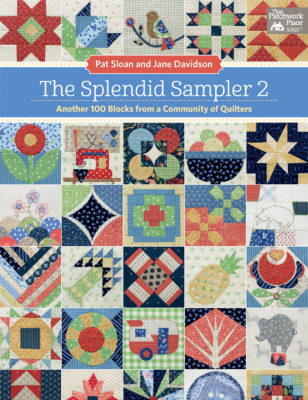 Here's my version of Block 1 called Quilt Market which was designed by Alex Veronelli of Aurifil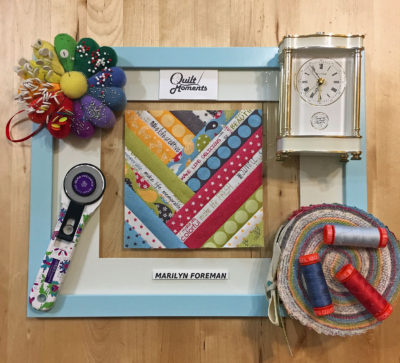 I used fabrics from the Make Life collection designed by Sweetwater for Moda.  I have a FQ bundle, jelly roll, and charm pack of this collection in my stash that I purchased way back in 2010 and I think it will be the perfect collection to use for my Splendid Sampler blocks.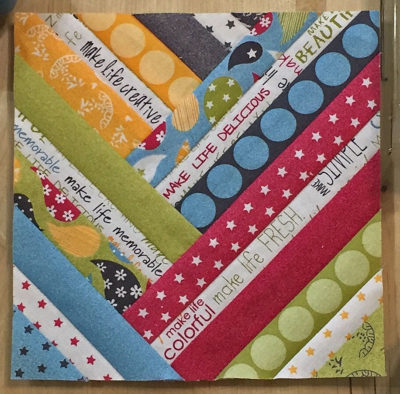 I love all the fun inspirational sayings on the fabric…makes me smile!
I used Sweetwater's newer collection called Harmony in my Charming Friendship Stars pattern so I almost used that collection for this block since that has wonderful sayings, too, like "choose joy" and "show grace" so maybe I'll use some of those fabrics in future blocks…
Join me and sew along with Splendid Sampler 2 and remember to post on social media with #thesplendidsampler so we can see everyone's creations!  Please follow me on Facebook and/or Instagram.  You can also subscribe to my blog to get notified of future posts, and sign up for my monthly (well, more like every few months:)) e-newsletter.
Until next time, please remember to enjoy all your quilt moments:)!
Marilyn