Hi fellow quilters!
The Quilt Moments website was just updated a few months ago and since my blog is now integrated in the new website site, if you've followed my blog in the past, please subscribe to the blog again so you will be notified of any new posts.   
Many quilters are also accomplished gardeners.  I love flowers and admire well-tended gardens, but sadly, I am not a gardener myself so instead I make gardens with fabric!  I love floral fabrics.  As you know, I like chopping up large florals and other prints to make 4-patch kaleidoscope quilts, however, I am also drawn to beautiful panel print collections.  The Garden Journal collection by Timeless Treasures is one of those collections.  Here is my Catch Me design using the Garden Journal collection.  The quilt was displayed in Timeless Treasures booth at the St. Louis quilt market last month.
The Catch Me pattern is very versatile. You can use any size panel squares from 4″ to 10+" since the pattern includes a table showing what size to cut all the pieces when you use different panel squares.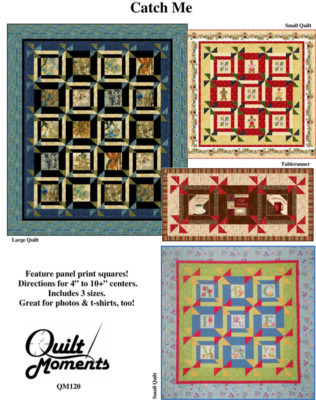 Here are some images of the quilt in process.  This is the full Garden Journal panel including 10″ panel squares before cutting it up.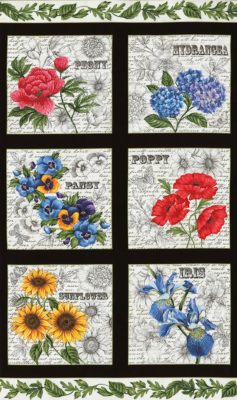 This is the Iris panel square cut to 10-1/2″ square to create 10″ finished square.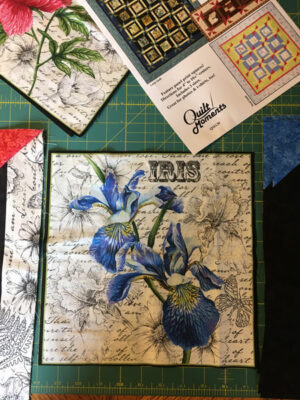 Here's the sunflower panel square showing some of the rectangle and triangle units that will surround it and create the pinwheels in the quilt.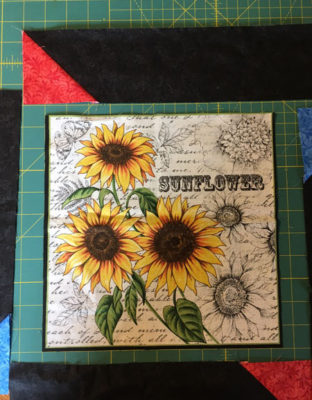 And here's a completed block using the Poppy panel square.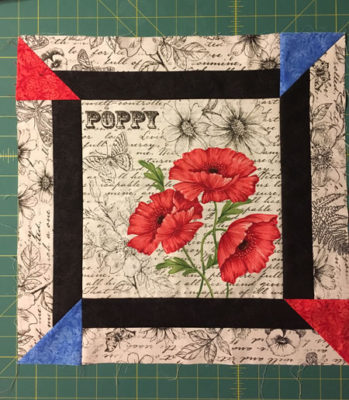 Here's the Hydrangea block in the finished Catch Me quilt.  My friend Sandi Moser did the beautiful quilting.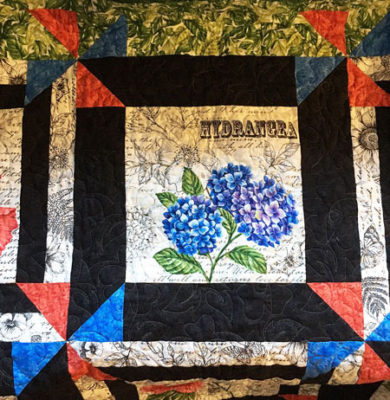 This was my attempt to take a photo of the quilt on my deck table and you can see my shadow:)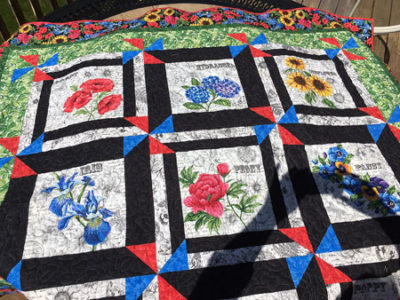 Nothing beats the feeling of having a quilt all bound, labelled, and ready to snuggle!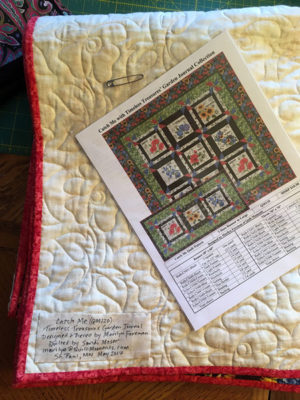 Have fun in your gardens this summer, whether fresh or fabric….they are all beautiful!
Until next time, please remember to enjoy all your quilt moments:)!
Marilyn