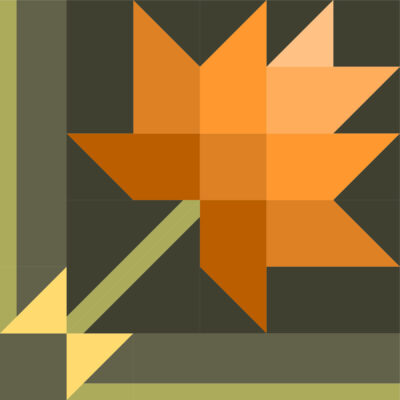 Leaf & Vine

Welcome to the September edition of the Quilt Block Mania blog hop with free block patterns from 29 designers! This month the theme is Halloween. I designed a leaf block in pumpkin shades starting with the assigned color theme shown below. I love thinking about the coming Fall, all the changing colors of the leaves, and the cooler temps allowing me to bundle up in comfy old sweaters. I'm not a huge hot weather fan, so it was a nice distraction dreaming of fall weather while designing this block during a 90 degree day here in Minnesota.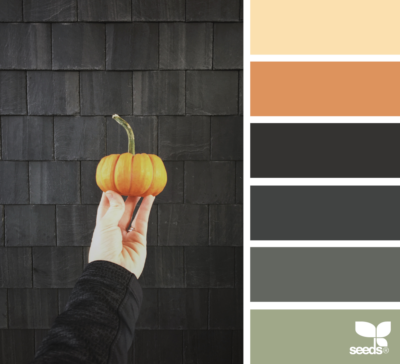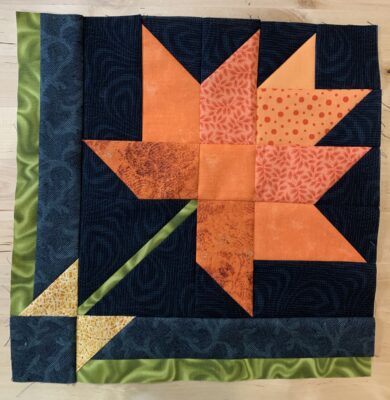 Here's my rendition of the block using a variety of fabrics from my stash. The block is made completely with squares and rectangles so it's not difficult. I made stitch and flip corners on the rectangles by placing a square on one side of a rectangle, stitching along the diagonal of the square, and pressing open to make the leaf point shapes. In this block sample my leaf stem is a bit thinner than the width shown in the block image above that I designed using EQ. The pattern includes options for both stem widths.
My friend Lou Ann made this pretty Leaf & Vine version using oranges with a bit more red and used a slightly wider leaf stem. 
Click here to get the Leaf & Vine block pattern which is currently FREE. 
You could make a whole quilt from a pile of Leaf & Vine blocks in various shades for a fun scrappy quilt, or combine one block with some of the fabulous blocks created by my fellow participating designers shown at the bottom of this post.
Before downloading the free block pattern and hopping off to the other designers blogs, please keep reading to see some of the other patterns I've designed in Halloween/Fall themes.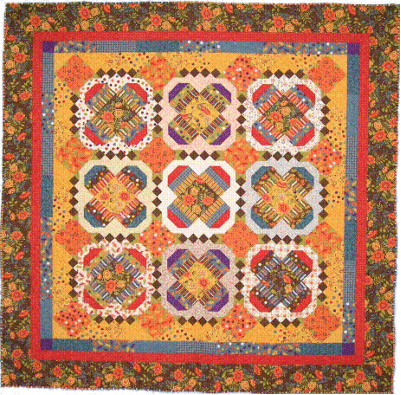 This pattern is called Blossom Bliss. For this sample I used fat quarters designed by Sandi Gervais for Moda. The pattern also includes the option of making the block centers with easy 4-patches made from the wide border floral print as shown in the kaleidoscope block examples below. If you are familiar with my patterns, you know that I love this kaleidoscope technique and often incorporate this option into my designs.  



Here is Twister Treat which is a pattern I created for Twister Sisters Designs, home of the twister tools. I co-own Twister Sisters with Lisa Amundson of Around the Bobbin and she is also one of the participating block designers this month. If you haven't made a twister quilt, give it a try. You simply sew together a framed grid of squares, cut it out in rows with one of the twister tool squares set on point on the seam allowance, and then sew the twister units back together to create fun pinwheel quilts that look hard, but are completely made with squares!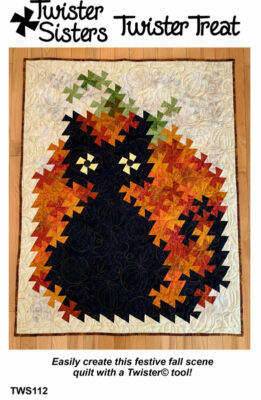 OK, back to the free Quilt Block Mania blocks. Look at this amazing variety of fun blocks!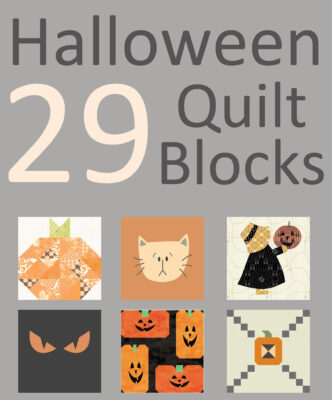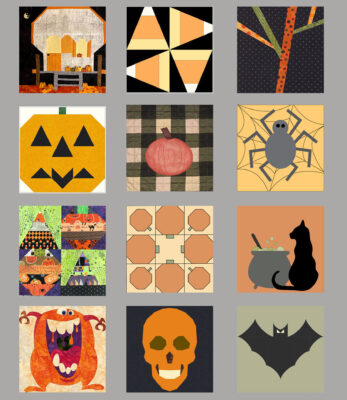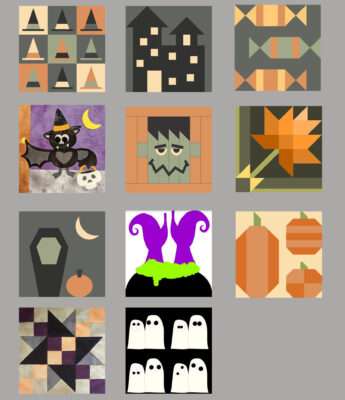 Here's a list with block names and links to all the pattern designers participating in the September Halloween theme Quilt Block Mania blog hop. Please visit their sites and check out the stories about their blocks! Special thanks to Carolina Moore for organizing the blog hop for us.
Remember to post the blocks you make on social media using #quiltblockmania so we can all enjoy the versions you create!
"Which Hat?" at Pretty Piney
Black Cat at Inquiring Quilter
Ring of Pumpkins at Always Expect Moore
Haunted House at Powered by Quilting
Three Treats at Sew Brainy
Bat at Slice of Pi Quilts
Day of the Dead Skull at Duck Creek Mountain Quilting
Gypsy Wagon Fortune Teller at Orange Blossom Quilt
Monster at Seams to be Sew
Patchwork Pumpkin at Quilted Diary
Stacked Pumpkins at Perkins Dry Goods
Spooky Star at Block of the Mo .com
Leaf Ghost at Off the Wall Quilt
Leaf and Vine at Quilt Moments
Frankenstein at Around the Bobbin
Bat by Heidi Pridemore
Candy Corn by Quilt Fabrication
Dark night by Cotton Street Commons
Pumpkin by Sew on the Go
Pumpkin and Bat by ScrapDash
Pumpkin Chain by Stash Bandit
Happy Jack-o-lantern by Patti's Patchwork
Foundation Pieced Eyes by Amarar Creacions
Spooky Trees by Aunt Em's Quilts
Upside Down Witch by Appliques Quilts and More
Scaredy Kitty by Tacy Gray
Sun-Boo-Net Sue by Blue Bear Quilts
Spider by Oh Kay Quilting
Candy, Pumpkins, and Witch Hat by Utah Quilt Appraiser
Thank you so much for participating in the Quilt Block Mania blog hop.
Until next time, enjoy ALL your Quilt Moments!
Marilyn
Quilt Moments