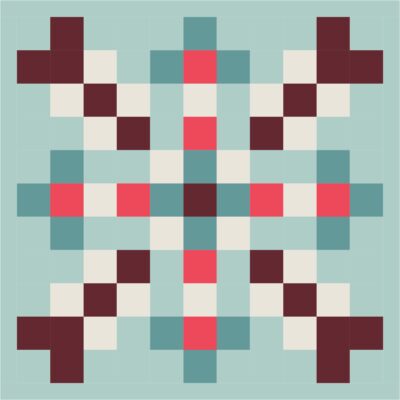 Snowflakes & Candy Cane Trees

Welcome to the November edition of the Quilt Block Mania blog hop with complimentary block patterns from 25 designers! This month the theme is Winter Celebrations.
I started out creating a snowflake block since I live in Minnesota, however, to incorporate all the colors in the scheme shown below, I then thought of adding candy canes, hearts, and pine trees, so that is how I came up with the silly block name of Snowflakes & Candy Cane Trees.  Can you envision all those things in the block? Squint hard and use your imagination:)!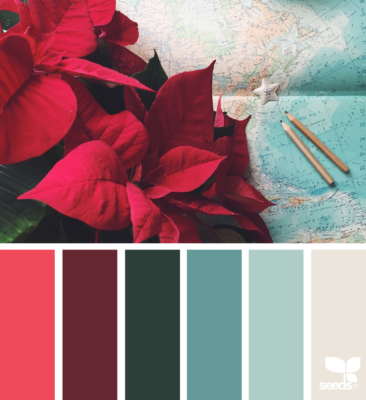 Here's my rendition of the block using fabrics from my stash. The block is made completely with squares and rectangles.
To speed up the piecing a bit, I sewed together strips and sub-cut them into 2-patch and 3-patch units.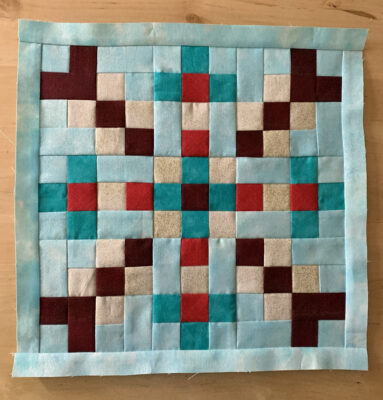 Click here to get the Snowflakes & Candy Cane Trees block pattern which is currently FREE. 
I hope you have fun making this block and combining it with some of the fabulous other blocks created by my fellow participating designers.
Before hopping off to the other designers' posts, please take a moment to check out my website and browse through my quilt patterns.
Look at this amazing variety of fun winter celebration blocks!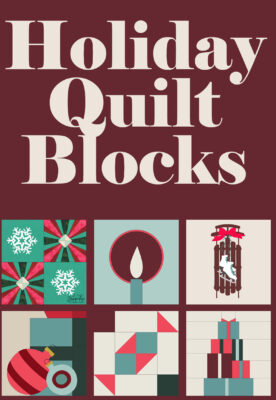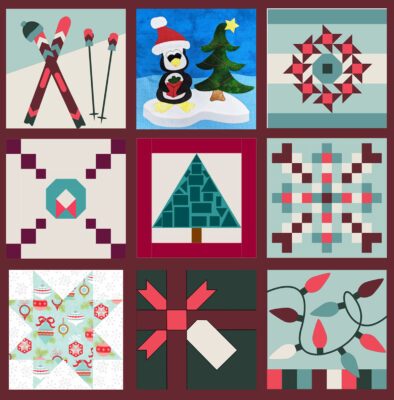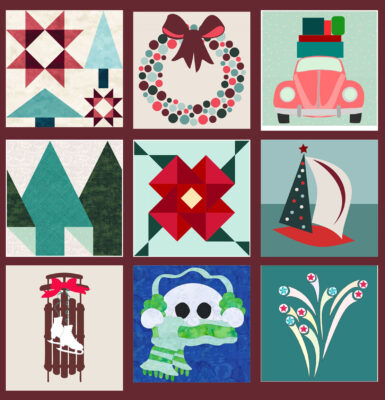 Here's a list with block names and links to all the pattern designers participating in the Winter Celebrations theme Quilt Block Mania blog hop. Please visit their sites and check out the stories about their blocks! Special thanks to Carolina Moore for organizing the blog hop for us.
Remember to post the blocks you make on social media using #quiltblockmania so we can all enjoy your creations!
Christmas Wreath by Slice of Pi Quilts
Baby Sue's First Christmas
Celebrate by Inquiring Quilter
Gifts at Always Expect Moore
Snowflakes by Blockofthemodotcom
Gifts of Friendship
Fireworks at duck creek mountain quilting
Wreath & Chain at Stash Bandit
Christmas Star by Michelle Renee Hiatt
Adirondack Mountain Quilt Block
A Present from Penny
Candlelighting at Pretty Piney Quilts
Poinsettia from QuiltFabrication
Harbor Holidays at Blue Bear Quilts
Christmas Cracker at Perkins Dry Goods
Sparkling Spruce at Patti's Patchwork
Jingle All the Way at Orange Blossom Quilt
Snowflakes & Candy Cane Trees at Quilt Moments
Tower of Gifts by Oh Kaye Quilting
Winter Memories by Carolyn Burgess
Holiday Block by Seams to Be Sew
Ticker Tape Tree at Devoted Quilter
Evergreen by True Blue Quilts
Merry and Bright at Around the Bobbin
Ski Vacation
Thank you so much for participating in the Quilt Block Mania blog hop.
Until next time, enjoy ALL your Quilt Moments!
Marilyn
Quilt Moments