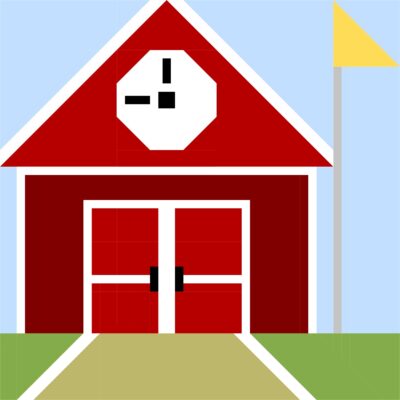 School Time Schoolhouse

Welcome to the August edition of the Quilt Block Mania blog hop. This month the theme is Back to School! During these crazy times of uncertainty, "back to school" may look very unusual for kids. I found myself thinking of days gone by when I imagine life seemed simpler and kids went to a little red schoolhouse:)!  Since my company is called Quilt Moments, it seemed fitting for me to add the clock, too.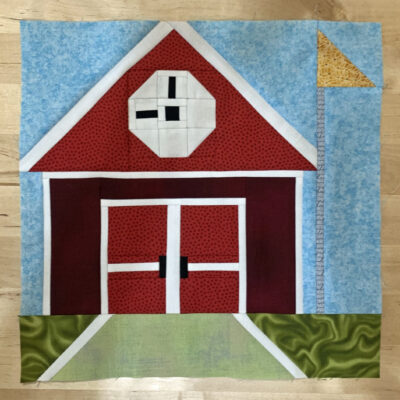 Here's my rendition of the block using a variety of fabrics from my stash.  
Click here to get the School Time Schoolhouse block which is currently FREE.
The block is all pieced. It may look challenging since there are so many details and small pieces, however, it is all made from squares, rectangles, and triangles…no templates.
Just carefully follow the steps in the pattern, pay attention to your 1/4″ seam allowance, and you will soon have a completed schoolhouse block!
You may turn the block into a wall-hanging, a pillow, or make more of the Quilt Block Mania blocks to create a quilt.

Here's a list with block names and links to all the pattern designers participating in the August Back to School theme Quilt Block Mania blog hop.
Please visit their sites and check out their fun blocks! Special thanks to Carolina Moore for organizing the blog hop for us.
Crayons by Slice of Pi Quilts
Lockers by Powered by Quilting
Math Problem by Pretty Piney
Chalk Board by Inquiring Quilter
Stack of Books by Carolina Moore
Pointy Pencil Block by Sew Brainy
Geometry by Duck Creek Mountain Quilting
Pencils by Quilting Room with Mel
School Bus by Orange Blossom Quilt
Book with Animal by Seams to be Sew
Stack of Textbooks by Quilted Diary
Shades of the Sun by Charisma Horton
Basketball by Devoted Quilter
Apples by Perkins Dry Goods
Box of Crayons by ScrapDash
Apple with leaf by Block of the Mo
Crayons by Off the Wall Quilt
School Time Schoolhouse by Quilt Moments
School House by Utah Quilt Appraiser
Pencil by True Blue Quilts
Owl by The Whimsical Workshop
Calculator by Quilt Fabrication
Crayons by Linda B Creative
Applique Computer by DooHikey Designs
Modern Apple by Cotton Street Commons
Glue by Quilting Mod
School Girls Puzzle by Sew on the Go
Snack by Quiltfox Design
Backpack by Oh Kaye Quilting
Math Signs by Patti's Patchwork
Bookworm by Appliques Quilts and More
Backpack by Tacy Gray
Schoolhouse by From my Carolina Home
Girl's Favorite by Blue Bear Quilts
Origami Paper Plane by Amara Creacions
Show up and Shine! by SewJoy Creations
School House with Children by Aunte Ms Quilts


Thank you so much for participating in the blog hop.
Until next time, enjoy ALL your Quilt Moments!

Marilyn
Quilt Moments