Jubilee
Ask your favorite quilt shop to host a BOM.
See short video here.

Block of the month (BOM) or anytime quilt! 34 page pattern. Make Small (6 month BOM) or Large (12 month BOM). The traditionally pieced blocks are made with squares and rectangles, so no y-seams.
Features Silver Jubilee collection by Maywood Studio.
A line drawing is included in the pattern so you can create your own palette if desired. It will work with a collection of lights, medium, and darks in any colorway.
The block centers are optional 4-patch kaleidoscopes made by simply layering 4 identical repeats of the beautiful large floral print, cutting strip sets, and sub-cutting into identical square sets. Four identical squares are rotated to create a 4-patch. All straight line cutting with no bias edges and no fussy cutting, just fun and the surprise of seeing what the block centers will look like depending on which rotation you choose!
Flat head (flower head) pins are required.
6 size options:
Small (6 month BOM)
54″ x 66″, 59″ x 71, or 68″ x 80″
Large (12 month BOM)
82″ x 94″, 89″ x 101″, or 98″ x 110″
Quilt Shops: 
Email Marilyn@QuiltMoments.com to request monthly kit cutting guide, free with purchase of patterns.
$26.00
Description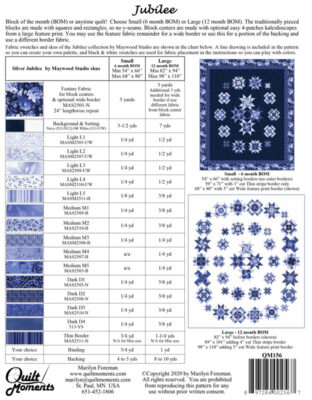 ---